Alzheimer's disease is an awful disease, which can't be reversed or cured. As Wikipedia states, its gradually worsening effects cause memory issues, language problems, disorientation, mood swings, lack of motivation and other behavioral issues. In order to provide support to elderly people suffering from Alzheimer's disease, there is a therapeutic program in Portugal, which curates musical interventions for its participations. These physical and musical sessions form a rather distinct reality apart from the rapid flows of everyday life. The Portuguese filmmaker, performance artist, photographer, poet, musician, video artist, painter and communication scholar Vasco Diogo (known for the award winning experimental film "anexperimentalviralvlog – the movie remix # !") explores this reality in his short film "1,2,3, Once Again" with a unique experimental approach that creates a fascinating and unconventional film reality, which makes the viewer emphasize with the Alzheimer patients as well as absorb to the distorted reality the film establishes.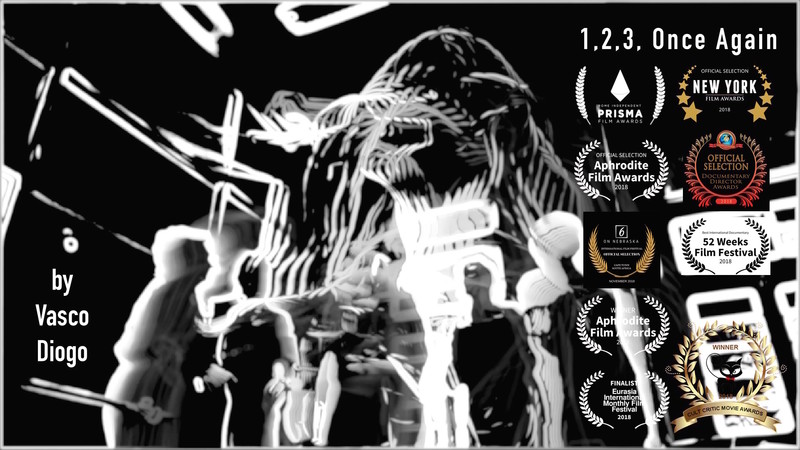 Vasco Diogo, who usually works with mixed media and experimental approaches and has a strong theoretical and practical background in different forms of creative expression, approaches the unfamiliar and strangely haunting space intuitively and improvisationally. This approach separates "1,2,3, Once Again" from a conventional documentary that the short film could have easily been. By adding disorienting layers with sound design and video effects, Vasco Diogo makes the film visually and thematically more complex. More unreal and more demandingly as well as physically experienced. This is not a documentary about a form of Alzheimer's therapeutic program that you consume by watching and thinking.
No, Diogo's experiment pulls the viewer in to the sessions in another level provoking existential thoughts and emotional responses with its unconventional approach to editing and effects, as well as storytelling. By playing with time, tone and voice manipulation, the artist creates an absorbing reality with its own roles and timeline. These effects combined with the subject matter creates a therapeutic environment around the viewer, as if the short film itself was constructed to provoke a stimulated therapeutic session. But then an interesting question comes to the front. While the people depicted in the film suffer from Alzheimer's and work in a session carved for this particular disease, what is the condition of the audience? Is it individually or collectively perceived? Does the experimental film form a uniform therapeutic space in which different spectators ponder on similar questions and experience similar processes? These are only some of the questions that the experiment arises with its unconventional form and fully experimental execution that employs both visuals and audio to make sure that the reality and the experience constructed by the audience is detached from the everyday reality.
Because of such different approach that locates 1,2,3, Once Again somewhere between visual art, experiential cinema, participatory therapeutic cinematic intervention and documentary, Diogo's newest work might feel too unconventional and odd for the audience who prefer clear and cinematically polished ways of visual representation. But for those, who are ready to explore uncharted territories, 1,2,3, Once Again offers psychologically engaging and thought-provoking framework for experiencing and exploring big existential questions.