Is 2016 a magical year where the full poetic spirit of Portugal materializes in films like no time else? From Ricardo Franco, the assistant director of the magical A Noite de Santo António, a glowing part of the most recent selection of Largo comes a directorial debut and an elegant meditation on and an ode to Faustian (yet lovelorn!) souls that push the boundaries.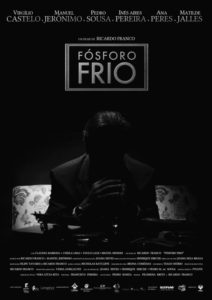 Alfonso Luis Campos – a reference to Pessoa heteronym Alvaro de Campos? – is a poet obsessed with his Beatriz and living, like all genuine poets ( true distillers of the invisible, remember Rilke, Rimbaud or Lautreamont), with a predisposition to a pretty spiritual hubris. When he finds Beatriz about to slip away from life, he seeks to close a deal with Death itself, and offers his own life, committing to take on a large dose of suffering, in exchange for her coming to life again. In the face of Death's repeated warnings, he proceeds to the handshake. Nevertheless, fate doesn't come as straightforward as him and Beatriz passes onto the other side, leaving Alfonso full of desperation and with muses hovering over him – which, in turn, give birth to a tome of mesmerizing poetry dedicated to / inspired by her. The deal that's sealed however, returns at an unexpected turn in his life and Alfonso will understand the price of hubris and confusing 'need' with love and dabbling with the very foundations of his own life.
Well-saturated B&W cinematography (with a palette between Coffee and Cigarettes Jim Jarmush and meditative Bela Tarr where at times blacks are as dark "as the devil painteth" and whites are as blinding as staring directly into the sun) with its contemplative grandeur and excellent use of mise-en-scene (the shifts from scenes that display as well as formidable acting highlight the utterly romantic nature of Cold Matchstick.
Cold Matchstick's pace is slow and the film lasts an hour (at least this festival version) and this may be a problem for some viewers. Yes, there is this feeling of a debut film that penetrates into some scenes, especially when characters utter ultra-poetic lines. The very slow pace also might be a problem for some viewers – yet many will hail this as another invitation that dresses the spirit of the film and will pleasurably immerse themselves into it as there isn't any millisecond where this choice of slowness signals a pretentious 'minimalism' or some other unconscious unpalatable experimentation.
Conclusively, Cold Matchstick is an impressive film that hits the mark and achieves what its director makes us feel he was set to achieve. I hope the waves it will create will provide the right launch-pad for him to strive for and accomplish ever more.
prepared by Mutlu Yetkin