La liberation de AlEXIS / The Discovery of Santos is Ralph Isenberg, the founder of Isenberg Centre for Immigration Empowerment, American advocate of immigrant rights narrating two different stories about the plight of immigrants before the camera along with a parade of images and a small, emotional interview with two kids that mark the final moments.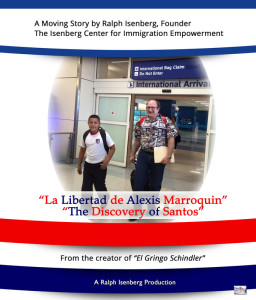 The documentary is tailored in a TV show aesthetic and it is stripped of any cinematic wow factor, other than a narrator, Isenberg, speaking before the camera, directly to the viewer. This conscious absence of aesthetics,  which otherwise would be a big minus for any endeavour, serves a definite purpose here. The viewer is forced to face an un-structured, plain reality via the accounting of the experiences of one man.
The story of El Salvador boy Alexis and the mother, a resident of more than a decade who wasn't allowed into the country on her return flight, leaving her kids motherless, are just two examples out of thousands.
Isenberg's accounts as well as his storytelling brim with emotion, demonstrating his heartfelt dedication to the cause. On the other hand, what he presents is a solid, irrefutable critique of the system. Both stories reveal the system's self-serving nature penetrating all of its components. The aid money funnelled to Central American countries "trickles up" via the tentacles of corporate America; the immigration system is set up in such a way that it is meant to discourage and strangle, instead of offering relief and inspiration.
Isenberg reminds the credo of JFK and the very foundations the country is based on, and shares, in a very intimate fashion, what he felt throughout his odyssey to save the futures of those people.
'La liberation de AIEXIS/ The discovery of Santos' is an informative piece that, in the long run, may serve as a basis for stories to be filmed with stronger directorial initiative.
prepared by Mutlu Yetkin.