With the help of a soundtrack that is very traditional and inspiring at the same time, Ciudad de mi Corazón shares beautiful postcards of the places and people that fill the city of Madrid with life with a viewership not often used to these landscapes. Even as one of the most talked about country as to the horror genre, Spain remains a filmmaking force the regular moviegoer does not generally know. The colors and lights, the fountains and monuments, the people make the city of Madrid a cozy environment, and even if the architecture shown has become famous all over the world, seeing it in Europe, its original place, has a special taste. Ciudad de mi Corazón, for many, won't be much more than an inspirational video with pretty people and streets to look at, but in reality, it is hiding much much more. A near religious voice with a message of longing and love for what a skeptic could say is no more than some concrete on dirt is the perfect setting for a beautiful community and their tiny everyday stories.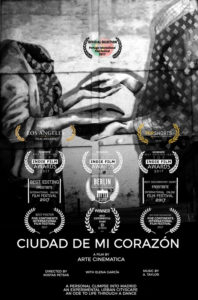 There is some serious mystery in the kind of things the city of Madrid is being asked. A request that sounds more like a prayer is narrated by the beautiful voice of Elena García, an involuntary list of wishes and hopes that might as well be the thoughts of every soul living in this gorgeous Spanish city. Everyday life in an urban environment, even being similar to the of any other old city in the world, can have its own little character, like the faint smell of a stranger's flavored cigarette on a rainy day. A city is like a body: all parts are in constant motion, all organs interacting with each other and letting life flow around in complete freedom. The way people act in Ciudad de mi Corazón shows a lot of color, personalities and behaviours. Different ages, natures, habits and professions show us the many shapes human art and work can take in an environment that absorbs them all regardless of skin color, gender, origin, age and religion.
The landscapes picked for this short are, more than any other element of this short, the most effective way to get the viewers to fill their lungs with air, to be inspired and moved by these stories, so similar to their own, but also developed in a very different world. With little effort, the team involved in Ciudad de mi Corazón shows off their skill at photography, at capturing life and keeping a certain time and space safe in their data storage devices and our memories. There are few things as beautiful as a single person developing its filmmaking skills and giving the world a piece showcasing a harmony of different skills and views on a subject rather than the result of a creative dictatorship only possible when a group of artists is involved. Ciudad de mi Corazón is clearly the former: the way Kostas Petsas managed to give random citizens enough space to show a side of their life in the city without ending up with a one-hour short shows pure skill, not only as a filmmaker, but as a storyteller as well. This is definitely a career to keep an eye on, great things can be made with the creative power Petsas is holding.