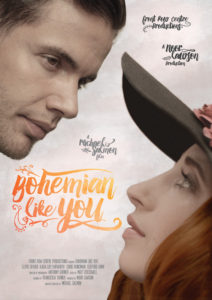 Named after the Dandy Warhols song, Bohemian Like You is the second romance drama in the selection revolving around an erudite and utterly charming street cleaner (Billie) and a young lady in her bohemian prime. A boy meets girl story that ends right two steps after the meeting itself – following the street cleaner coming out of the shadows, beating the hollow, fake-gentry yuppie as well as his lumpenproletariat colleague – the film in itself is also a tasty social critique of the no-social-mobility mire the United Kingdom has come to epitomise.
Bohemian Like You encompasses classy acting and delightful staging. Side characters, the yuppie who is out to steal French words to perform against his recent pick-up to the coarse street cleaner compete in rudeness, setting the scene for the crowning of the working class intellectual (who happens to be physically as flawless as a male underwear model) by the French-y flower skirt, lipstick and books girl.
Nevertheless, despite the beauty of its message and any possible subtext, the film is one of those shorts that arise like signal flare, giving away the location of a talent but nothing more. It is as though its director had treated the short not as a format in itself but as a playground where he can exercise and advertise. With its story halting exactly at the point it is expected to take a turn, Bohemian Like You definitely disappoints, not despite but abruptly because of its promising, well-developed characters and utterly promising style, leaving the audience looking for more. Time will tell the reaches of his skillset if Michael Salmon, the director, makes up his mind to work on larger canvasses with more intimidating material.
prepared by Mutlu Yetkin.