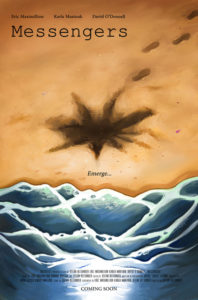 Knots and ties of fate, a bond that extends beyond death and a supernatural yet so mundane and unpretentious intervention into the flow of life intended to convey a destined message make up the story of Messengers.
As the girl mourns and devastates herself over the memory of a deceased loved one, black and white visuals of the days gone by, the days of love and joy melt into a present where there is only ashes and smoke (in both meanings, quite literal as chain-smoked cigs and quite figurative as sun-soaked melancholy that hangs in the air). Meanwhile, a stranger washed ashore (and buried in sand! an Angel? Him lifting his head and talking to the heavens hint at this) follows and approaches her, only to communicate a message from behind the curtain that splits the two worlds.
In all its unpretentiousness, Messengers has a profound message. Moments of epiphany don't come with trumpet rolls, nor with grandiose curtain-lifts. Life and death, the two shores of existence that complete each other are so close that in our all too human and all too wonderful feelings, we are prone to forget that they are two gates of the soul.
prepared by Mutlu Yetkin.