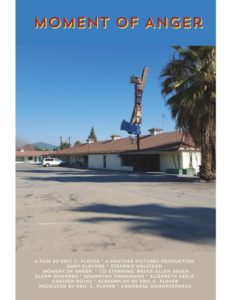 Eric Player's A Moment of Anger, the winner of the Best Song Award at LA Cinefest and Honourable Mention at TopShorts is a road movie, or a film about a soul getting lost to find himself again, after a brief mental eruption, a moment of anger.
A man storms out of his house, leaving his wife behind only to take a long stroll across nearby Americana and to witness life out there, with all its twisted, haunting and not so dark but desolate flash. His return marks the reembracing of not only the warmth of hearth and home but also a turn in the protagonist's odyssey to know-himself.
The almost panoramic portrayal of Americana, with its Best Westerns, lonely motels, weird strangers, boring shopping malls, scary sunsets and bird's-eye-views of flat cities at night (diners might be missing from the overall picture) is flawless, perhaps owing to the simplicity-loving style and the local savoir of its director.
The emotional impetus of the film, seemingly distilled from the very personal experiences of Player, hence can speak in tongues, apt in articulating both the almost Lynchian psychotica that sneaks into the mundane and the comforting language of familiar, in all its excellence.
Crisp cinematography, a very well-paced and well-crafted story are wow factors that make A Moment of Anger stand out. Even after its emotional roller coaster, A Moment of Anger remains as mellow as a delightful guitar song coming from the bedroom windows of a lonely suburban home.
prepared by Mutlu Yetkin.