'I required love' is, and always will be a popular topic to explore within film, and all media as it is one that resonates with most audiences and one that is fraught with emotion but also often a ridiculousness that in hindsight is hilarious.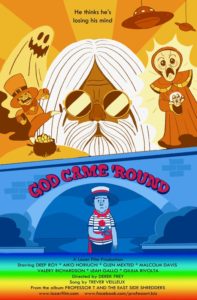 This is what we see in this film. A look at unrequited affection and how it manifests itself. The loneliness and the sadness that you often feel when life is happening, ridiculous things that you need to share, but have no one to share them with because they won't pick up the phone.
This film deals with this topic in a satire, almost slapstick style which gives it an 'easy' air and makes it an enjoyable watch, yet at its core is still this unrelenting truth and sadness.
The body of the film is structured around a song, which adds to the juxtaposing uplifting feeling of the film, despite the content. The over riding musical element means that the cast have no dialogue, yet the emotion is still evident throughout which is a testament to both the acting talent and the direction. Being able portray a character effectively with no words is no mean feat, but it is one that is achieved in this short film.
The FX in the film are obviously cheap and cheerful, but this is the whole point and it adds to the B movie farce like elements of the film which off set the trauma well. The camera work is well executed shooting POV shots from the height of the lead. It results in the rest of the cast looking down on him which is often how unrequited affections feel.
Overall a well executed film that makes light of an emotional issue without losing respect for it.