Filled to the brim with retro nostalgia, Kissy Cousins is a 90s smack in the face. From the Star Wars opening to the costumes and set decor it's beautifully constructed yet completely contained.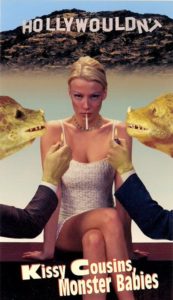 Kissy Cousins only just counts as a short, with its 40 minute running time its more of a medium, and this at times causes a drop in interest. It could potentially benefit from cutting the length by ten minutes or so. That said, the dialogue is excellent. Written to fit in with the aesthetic of the piece and embrace itself for what it is, rather than pretend to be something it isn't.
The cinematography and production design are flawless. The film is almost completely contained in one room yet the designers have done an outstanding job creating the perfect 90's set. The same can be said for costume and make-up.
The story itself may not break any moulds, but it is so well presented and paced (aside from the odd lull) that it doesn't matter. It's there for pure entertainment and that is exactly what it provides. AS I stated, it embraces what it sets out to be and that fun and self awareness shines through to provide the audience with something that is pure popcorn endulgence.
A well made, cleverly constructed and designed and overall utterly entertaining piece of film that will make anyone born in the late 80s swoon with memories.