The documentary opens with an upbeat piece of traditional music that is juxtaposed to the on screen text which talks of pain and suffering of the residents of the African town we are in. We focus on one elderly resident who has lived through some horrendous times.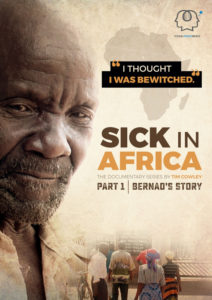 Now, this man faces sickness, and in a country where education and medicine is minimal this can be much more serious than in other countries. This is the topic of this film. It focuses on the issues related to being ill in a country where resources are minimal. Here there are still many who believe in spirits and other worldly reasons for suffering, for which there are home medicines and treatments.
This film is immensely intriguing for those that are not familiar with this area of the world as it explores a culture that is not readily understood. This particular topic is dealt with through the eyes of a number of residents of the area who offer unique perspectives on the issues surrounding being ill in this part of the world.
The music offers a traditional soundtrack as we navigate the different areas surrounding the original location and get different perspectives on healthcare. This keeps an upbeat feel to a topic that could easily be all too depressing.
The film is well edited using simple cuts and well placed animations to demonstrate travelling between locations. The interviews have been edited together in a linear fashion that gives the piece an actual story that is tense and heart breaking at times .
Sick in Africa provides an insight into healthcare in circumstances that many of us have never, and will never, experience. It helps to provide an understanding and sympathy to a culture that many have little knowledge of.
A well-produced documentary that utilises its material effectively to provide a piece that appeals to audiences and utilises a particular character to bring the audience in and gets them to invest in the film.