93 Not Out is an inspirational film that feel as much like a short film as it does a documentary and vice versa. At 93 years old, our male lead is by no means out. As we learn he has lead a full life and is not about to stop just because he is a bit older than he used to be. He has one desire. To ride a bicycle again before he dies. Easier said than done.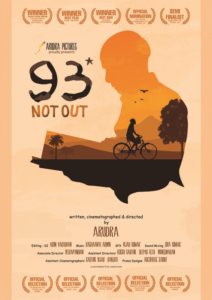 This adorable film has a huge heart at its centre. Its minimal production only adds to its utter charm. It feels unpolished, like a documentary which works in its favour as it promotes the idea that this is a real, actual person. It helps the audience to bond with the character and invest in his story.
Despite being focused around an elderly man who is facing death, this film has an undoubtable light hearted feel. It almost skips across the screen to its own happy beat. The lead character is dynamic and one that is easily attached to. His determination and drive to live his life to the full are heart-warming and inspirational.
The whole film comes together with a pleasant and chirpy synergy. Everything works together like a well-oiled machine to promote a consistent and flowing narrative. The dialogue feels natural and well written, yet it is the imagery and the music that provides the atmosphere within this film. The upbeat tones of the cultural music promote a positive feel as if the film itself is smiling at itself.
The film is well edited, and with use of flashbacks which are used sparingly we get an idea of the main character's past without too much exposition. We understand his motivations and why he wants to achieve his goal.
93 Not Out is a delightful film that provides inspiration from start to finish.