Dark. Foreboding. Unnerving. The three words that sum up the opening of this film and set the tone for what is to come. The sharp and metallic music adds to the fear inducing atmosphere and tension as disturbing images flash across the screen leaving us wondering what the hell just happened.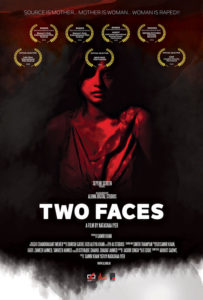 Two Faces opens with a dramatic and disconcerting set of images, then moves into a calming ocean view that brings the audience back down off the tension filled cloud it placed them on. We are then shown a world far from the one we are introduced with. A juxtaposition of love, happiness and bright colours. Then we are again flung back into a world of fear, pain and darkness.
What Two Faces manages to do very well is link two very opposing images and atmospheres and provide a linear plot line despite using two different timelines. This is achieved by utilising very different colour palates along with a distinctive sound to go with each separate timeline. The tense and sharp music used within the dark scenes is much different from the calming and melodic music used in the brighter scenes.
This achievement in film making is also more impressive as it has no dialogue. The emotions and fears that the film evokes are done purely with music and the physicality of the characters. It is a testament to the actors and writers that this work so well on screen. The fact that the audience can still invest in characters that have no dialogue or obvious personality shows how well the story is written and how well directed the film is over all.
The film leaves you somewhat devastated yet fulfilled. The outcome is one that not only touches the heart with love, but breaks it with pain. Beautifully constructed and written with pure emotion. No words are needed to display the sheer sentiment within this film. Stunning.