An intriguing opening scene that provides with an insight into the characters psyche and mindset. It also gives the audience questions that need answering. Why are these characters here? It isn't a normal place to go on a date, so why here? A strong opening scene that grabs hold of the audience right from the start.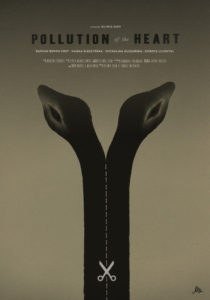 From here on in the film remains strong. An interesting and well developed plot with well executed and strongly written dialogue carry us through the film.
The performances from the actors enhances the experience with characterizations and delivery that is impressive.
There is an interesting focus in minutiae and the nuances within a scene. How the characters move around each other, facial expressions and how props interact within the scene are all the focus of a variety of shots which adds to the melancholia that can be felt at certain points within the film.
This is then intertwined with the exploration of the characters emotions and their reactions to those emotions in a way that provides subtext without giving everything away. A strong skill in terms of film making.
Accomplished editing and set design compliment the over all feel of the film without over shadowing the action and the dialogue. Music is similarly utilized in a subtle way that enhances a scene rather than detracts from it. This results in scenes that are not only strong in terms of plot and construction, but are often beautiful in terms of visuals.
A strong and impressive example of film making.