We start with two seemingly bizarre characters. One old man about to jump to his death, another who appears from rowing boat on the land behind him. Despite them both being in dire straits they seem worlds apart. Until they start to talk.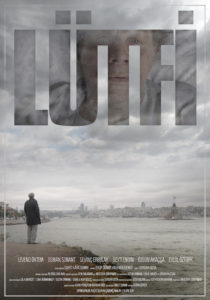 What is wonderful about this opening scene is that it is a homeless man that saves a life, rather than somebody saving a homeless man. It emphasises that the people we see and assume have issues, aren't always the ones suffering the most.
As we get further into the film we see that this man that tried to kill himself is suffering from a severe depression. Yet, we then learn that there are others that are also suffering. The film demonstrates that the people around us are all fighting their own demons. Our main protagonist utilises one of these demons to get an acquaintance to kill him. He uses somebody else's misery to end his own.
Lufti is a creative and unique piece of storytelling that is compelling in its construction. It focuses on misery and yet provides a release for both of its main characters at the end of the film, but not in the way the audience would expect.
Well scripted and superbly acted this slow burning film is atmospheric and melancholic throughout. Minimal locations and simplistic stylings make this film purely about the characters and their story arcs. Accomplished writing drives this story forward and the performances are what make it as enthralling as it is.
Strong directing and editing highlight the films strengths and an ethereal, light and slow musical pace create a forlorn atmosphere that perfectly accompanies the tone of the film.
Lufti is a strong piece of film that deals with a deep and somewhat troubling topic yet provides in a manner that is watchable and encompassing. The story and the performances stick with you once the film has finished, which is the sign of accomplished storytelling.