From the outset this film is bold and bright. From the music to the colourful outfits you cannot help but be drawn to the screen. Drawn to a way of life and a celebration that is so far removed from many of our lives.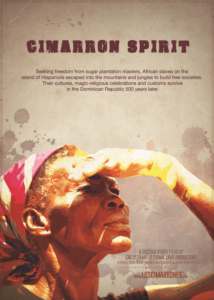 This is the strength of this documentary piece. It doesn't just focus on a geographical location. It focuses on a people. It looks at their history and their historical journey as a population through the eyes and experiences of a variety of people within the community. As the film focuses on the Cimarron celebrations the audience are treated to an insight into the cultures religious and mythological belief systems and the emphasis that is put on legends and myths within a society that has magic within its belief system.
The mixture of various celebrations and different aspects of the celebrations works well to provide different perspectives of the Cimarron and the variety of legends that surround them. This in turn provides a much stronger and more fulfilling narrative to the documentary. The different viewpoints make the documentary much more interesting and intriguing.
The bright colours along with evocative imagery are edited well to provide a visual feast that fits well with the voice over interviews and information that is being provided. Despite the wealth of information that is being provided the film feels streamlined and well organised. At no point does it feel mixed up or unorganised. This is a testament to the hard work of the film makers.
This documentary is a fascinating insight into a culture whose belief system is far removed from Western culture, yet these communities embrace their myths and legends and come together to celebrate them. The film makers have effectively pulled together a wealth of information and formed a documentary that effectively tells the story of a legend and how it is perceived by modern society.
A strong film that is well put together and well researched. Whilst the topic may not be of interest to everyone the film itself provides an entertaining and informative journey into a little known culture.