Zombies have been the flavour of the decade and have always held a special place in many film buff's hearts. They have come in all guises from horror, thriller, drama and comedy down to outright farce. Best Friends offers yet another incarnation of the zombie film, and it actually does display some originality, which is tricky in a genre that is so over-represented. Especially in indie film makers.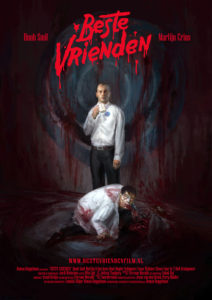 If you want to understand the over-all 'feel' of Best Friends, think Shaun of the Dead. In fact, this film could easily follow on from where Shaun of the Dead finishes where we see the bond between two male friends transcend zombie transformation. In Best Friends we see two office workers who are also long term best friends as one of them falls ill at work. As it transpires, his illness is in fact a zombie virus. The friend then attempts to protect and help his friend, despite him running rampage around the office.
What Best Friends does very well is provide a believable and tangible friendship between the two lead characters, despite one of them having less than twenty words of dialogue. Despite this the bond between the two is heart-warming and cheering.
The writing within the film is strong. The film builds gradually and the comedic element within the scripting is subtle yet effective. The film utilises both vocal comedy and physical/environmental comedy in order to provide a film that is laugh out loud at points.
Aside from the comedy, the film displays an aptitude for costuming and make up that is admirable. Not only is the zombie make-up impressive but there is also a subtlety to the physical elements that goes a long way. The film doesn't go over the top in terms of gore and it holds on tight to its comedy roots.
Best Friends is a well-made, well written and well executed film that explores the often underrated bond that links male friends. With excellent performances and impressive production Best Friends is a blood filled delight for audiences that enjoy their zombie's with a side order of heart.