Penetrating neon colours of Winding Refn and twisted stories of Tarantino crash into each other in I am Terry Zou, the story of a not so well known pop singer being kidnapped by the Chinese mob and trying to find a way out of the mangle.
As in several contemporary 'rock'n roll' mob movies, I am Terry  Zou makes a tour de force with its dynamic, almost MTV style editing. Frozen stills, jump cuts, repeats, intros/interventions intercut into the flow introduce a speedy and captivating timeline. Split screens or reaction shots would make it all the more impactful, and one can't help wishing if slushy C-pop could be replaced by something more rock'n rollish, The pace slows down as story progresses, as Terry Zou charms his way to stage to launch a show that would hopefully save him, appealing to the arch mobster's wife.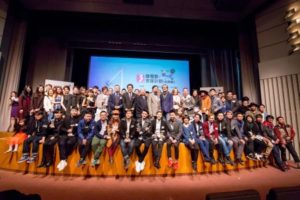 This Guy Ritchie'esque pathos fails, as expected, on the character development side of the palette. Caricatures abound, as this particular 'genre' of mobster tales usually do not require a compelling depth. The fat clumsy mobster who isn't really that intelligent, the line-managing mobster whose kowtow to the head figure is as passionate as his commanding his minions, the chief of mischief bullied by his want-it-all wife. And lastly,Terry Zou, as stainless and innocent as a swan.
Such takes, with their frenetic flow, compact plots and editing sprees, include some of the 'musts' commercial directors should excel at, hence may serve as exercises. Terry Zoumay herald the dawn of a career too, but for a future to solidify, more elusive cinematic tactics, rigorous plot-work and an eye for character development are essential.
prepared by Mutlu Yetkin.