What makes a documentary? Is it the filmmaker's struggling against her/his own ego to engage in as little subjective interpretation as possible vis-à-vis an expanse of reality? Is it a channeling of voices unheard and stories yet to be known in an attempt to map a terra incognita?
Since the beginning of the second decade of the 2000s, global film industry stood in awe before a new vector of creative documentaries that registered the genre is not supposed to be a total exodus of the fictive spirit. Titles such as The Act of Killing or Five Broken Cameras revolutionized the domain, blurred boundaries and pointed at new, adventurous paths yet to be explored.
American director Martha Gorzycki's Voices from Kaw Loo Thei is a daring experiment. It reveals a tragedy that was unashamedly swept under the rug and has gone largely unnoticed in the world media. It draws attention to the pledge of Karen People of Burma, whose population have been reduced to half and who were devastated by six decades of genocide, culturcide and civil war.
The experimental methodology Gorzycki employs involves the utilization of countless photographs dissolving (or rather, condensing) into surreal textures over which the voices make themselves heard. The alchemy of images burnt into each other form cinematic talismans, capturing not the coarse 'reality' but the very energy of the dire ordeal the Karen people have gone through. Rays of weary sunlight shining through the shadowy forest, shades of desolation that haunt the land, bones and stones in unnamed graves, the hues of scorched earth – these all too gritty, all too bare images of life trampled underlie the idea of, as Gorzycki points out, a land of safety far away, while contrasting the false glitter of post-colonial Nat-Geo photography; imbuing the term "nature-mort" with a new meaning. Will the cyclic law of nature allow Karen people to embrace hope again?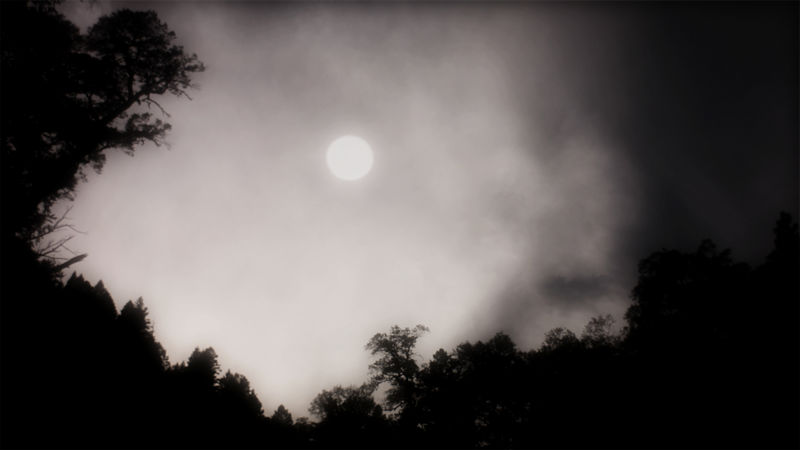 The voices in all too profound reminiscence that speak au fond this disaster of the soul are individual accounts of pain. Nevertheless, the spirit of the collective, in harmony with the Karen culture's valuing collective over the monad, is prevalent.
In its totality, Voices from Kaw Loo Thei becomes a visual statue dedicated to a trauma. In the musicological fashion that names experiments in sound devoid of a dictating morphology as sonic sculptures, Gorzycki's film is a poem of earth and clay, a homage to landlocked souls devastated by the horrors of war and a wake-up call to the dormant sparkle of hope that resides within.
The experimental quality of the documentary may block distro prospects and limit festival outings to niche avenues, nevertheless, the experimental courage itself will propel director's future enterprises.
prepared by Mutlu Yetkin.