American Dynasty boasts the voyeuristic pleasures and the captivating energy of a film de clef (if such a label exists) with a sophisticated and exciting cultural commentary addressing one of the least cinematically excavated segments of contemporary American society: Chinese Americans. A TV series project accumulating momentum and backing for a launch, American Dynasty is about a Chinese-American family whose remaining members – a colourful motley crew rather than a tightly knit tribe – are trying to come to terms with the legacy of a deceased mother who happens to be a famous author with colossal triumphs and an equally riddling image and personal history.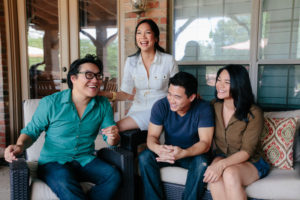 The characters that populate this ark are extraordinarily imagined and played – Chris, one of the personae who happens to be around the centre of the drama, is a haunting mélange of the self-imprisoning tendencies of both worlds: a Western fixation on decorum and Mandarin aloofness supported by an occupation with 'should be's that is puissant enough to hide icebergs of repressed sentiment. Nevertheless, the task of 'keeping the kingdom intact' – Chris' particular obsession that marks the intersection of a hi-fi Asian modus vivandi and American social etiquette, which means preserving the appearances and self-convictions in this particular context – is executed with significantly better results by his sisters.
The 'involuntary sensuality' scene x-raying Chris' emotional closet may compete with Nic Roeg's unforgettable ritual in Don't Look Now featuring a Venice-struck Julie Christie and Donald Sutherland, in means of heat and bringing the subconscious to the fore.
American dynasty is not simply about being stranded inbetween cultures, or about a limbo of belonging and non-belonging. Having to put dual straightjackets – that of palatial, what-to-whisper-in-the-Emperor's-hall Chinese politics and that of American garden party politics – may seem to crucify the remaining members of Han family, but as the late mother concluded, her kids are already assimilated, already a part of the new terrain that had once given her plenty of challenges to overcome. In this regard, American Dynasty seems to offer narrative lessons on how to manage ghosts given in person by a festivity of characters – a narrative promise that is pregnant with pleasurable twists and knots.
In this contemporary climate where TV series writing, taking advantage of the crises that haunt silver screen production and attendance, stalks some stunning heights the auds should look forward to salute the emergence of such a daring and written-from-the-heart drama into the white screen.
prepared by Mutlu Yetkin.