For a film that focuses on a tragedy, there is an underlying beauty here that truly transmits its glow in the finale. For a short film it packs quite the emotional punch in its conclusion, and delivers a strong message within its short running time.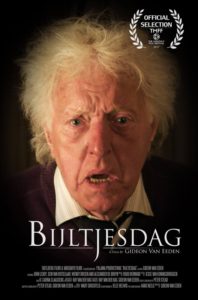 Here we have an exceptional example of story-telling within a short time frame, and how best to use this medium given its restrictions. Despite exploring a delicate and complex issue, the film manages to keep its dialogue effective and sparse and uses its visuals and a belief in its audiences' intelligence in order to tell the story. There is little exposition and the dialogue never feels forced or fake.
The lead actor does a fantastic job with minimal lines. His interactions with the young boy are touching, and his facial expressions tell the audience more than dialogue ever could. Fantastic acting and fantastic directing.
The team behind the film have managed to bring an air of charm and almost warmth to a topic that is riddled with fear, heartbreak and horrific memories for so many, and this is done with respect and understanding. A truly great accomplishment of a film.