Films that have their basis in reality, or are in their essence a documentary, can often walk a fine line between factually interesting and boring. This can be avoided by creating something unique and diverse. This is what Sketches does. It takes a concept that has the potential to be mundane and turns it into something that holds the audiences attention.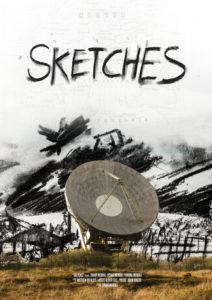 The film does this by utilising a variety of techniques to tell it's story. The voice over helps to tell the story without watching a face on screen, instead we are offered a variety visuals to help whet our imaginations appetite. Fictional film pieces are accompanied by archive footage, home video and beautiful sketches images.
The decision to use a variety of devices to tell this story is heavily reward by it's effectiveness. It creates a film that entertains as well as informs. The artwork used is beautifully made and used perfectly within the film. It creates a unique piece that is a pleasure to watch.
The production quality is excellent given the variety of mediums that are used. Despite using a variety there is still a realism and honesty to the piece that runs through each different medium.
The voice over is honest and feels more like a conversation than a factual piece of text and offers a more human perspective that is often times missed in documentary style films, it helps to make the film feel more accessible and less formal which in turn helps the audience to connect to it.
Overall this is a well executed piece of film that provides strong visuals along with a well constructed narrative. It's unique use of styles keep the audience intrigued and invested in the film which is difficult to do within a factual piece, yet here it is achieved and achieved with gusto.