It's quite often the films with a simple concept that are the most impactful, because they are the ones we can so easily relate to. Voyeur takes an incredibly mundane, everyday idea of watching someone through a window and intertwines with something so true and heartfelt that it flips our expectations and turns into something incredibly personal and touching.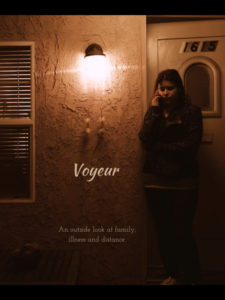 Voyeur is the perfect name for this piece. Not only are we, the audience, the voyeurs into the protagonists life but she is a voyeur into her family life at a time when she feels she should have a leading role. She gets snippets of information about her family much as we get snippets of information from the times we see her through the window. A clever way of mirroring story to theme.
The lead actress portrays the role with an ease and reality to the emotion that is endearing and heartfelt. Given that we get little context to the what is happening, and the limited insight we get into her life, the writing is so well done that we still develop a relationship with the protagonist and feel an empathy to her situation, not least because it is presented in a way that the audience can relate to.
The success of this film lies mostly within the simplicity of the way that it is presented. Nothing is put in the way to distract us from the narrative and the lead characters emotions. The whole film relies on the performance and the script, which works. We are drawn into this world from the outside, but what works is that we are kept on the outside. That is what creates the intrigue.
The fact this film deals with such an emotionally wrought topic in such a straightforward manner without overplaying the drama is what makes it so delightful. It doesn't make an issue out of the topic and instead deals with it isn an honest and relatable way.